Page 8 - Turkinsurance Digital Magazine
P. 8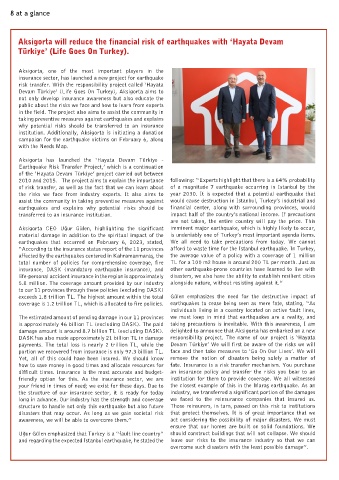 8 at a glance




       Aksigorta will reduce the financial risk of earthquakes with 'Hayata Devam
       Türkiye' (Life Goes On Turkey).



        Aksigorta,  one  of  the  most  important  players  in  the
        insurance sector, has launched a new project for earthquake
        risk transfer. With the responsibility project called 'Hayata
        Devam Türkiye' (Life Goes On Turkey), Aksigorta aims to
        not only develop insurance awareness but also educate the
        public about the risks we face and how to learn from experts
        in the field. The project also aims to assist the community in
        taking preventive measures against earthquakes and explains
        why  potential  risks  should  be  transferred  to  an  insurance
        institution. Additionally, Aksigorta is initiating a donation
        campaign for the earthquake victims on February 6, along
        with the Needs Map.

        Aksigorta  has  launched  the  'Hayata  Devam  Türkiye  -
        Earthquake Risk Transfer Project,' which is a continuation
        of the 'Hayata Devam Türkiye' project carried out between
        2010 and 2015.   The project aims to explain the importance  following: "Experts highlight that there is a 64% probability
        of risk transfer, as well as the fact that we can learn about  of a magnitude 7 earthquake occurring in Istanbul by the
        the  risks  we  face  from  industry  experts.  It  also  aims  to  year 2030. It is expected that a potential earthquake that
        assist the community in taking preventive measures against  would cause destruction in Istanbul, Turkey's industrial and
        earthquakes  and  explains  why  potential  risks  should  be  financial  center,  along  with  surrounding  provinces,  would
        transferred to an insurance institution.             impact half of the country's national income. If precautions
                                                             are  not  taken,  the  entire  country  will  pay  the  price.  This
        Aksigorta  CEO  Uğur  Gülen,  highlighting  the  significant  imminent major earthquake, which is highly likely to occur,
        material damage in addition to the spiritual impact of the  is undeniably one of Turkey's most important agenda items.
        earthquakes  that  occurred  on  February  6,  2023,  stated,  We  all  need  to  take  precautions  from  today.  We  cannot
        "According to the insurance status report of the 11 provinces  afford to waste time for the Istanbul earthquake. In Turkey,
        affected by the earthquakes centered in Kahramanmaraş, the  the average value of a policy with a coverage of 1 million
        total  number  of  policies  for  comprehensive  coverage,  fire  TL for a 100 m2 house is around 200 TL per month. Just as
        insurance,  DASK  (mandatory  earthquake  insurance),  and  other earthquake-prone countries have learned to live with
        life-personal accident insurance in the region is approximately  disasters, we also have the ability to establish resilient cities
        5.8 million. The coverage amount provided by our industry  alongside nature, without resisting against it."
        to our 11 provinces through these policies (excluding DASK)
        exceeds 1.8 trillion TL. The highest amount within the total  Gülen  emphasizes  the  need  for  the  destructive  impact  of
        coverage is 1.2 trillion TL, which is allocated to fire policies.  earthquakes to cease being seen as mere fate, stating, "As
                                                             individuals living in a country located on active fault lines,
        The estimated amount of pending damage in our 11 provinces  we must keep in mind that earthquakes are a reality, and
        is approximately 46 billion TL (excluding DASK). The paid  taking precautions is inevitable. With this awareness, I am
        damage amount is around 8.7 billion TL (excluding DASK).  delighted to announce that Aksigorta has embarked on a new
        DASK has also made approximately 21 billion TL in damage  responsibility  project.  The  name  of  our  project  is  'Hayata
        payments. The total loss is nearly 2 trillion TL, while the  Devam Türkiye' We will first be aware of the risks we will
        portion we recovered from insurance is only 97.3 billion TL.  face and then take measures to 'Go On Our Lives'. We will
        Yet,  all  of  this  could  have  been  insured.  We  should  know  remove  the  notion  of  disasters  being  solely  a  matter  of
        how to save money in good times and allocate resources for  fate. Insurance is a risk transfer mechanism. You purchase
        difficult times. Insurance is the most accurate and budget-  an  insurance  policy  and  transfer  the  risks  you  bear  to  an
        friendly  option  for  this.  As  the  insurance  sector,  we  are  institution for them to provide coverage. We all witnessed
        your friend in times of need; we exist for these days. Due to  the closest example of this in the Maraş earthquake. As an
        the structure of our insurance sector, it is ready for today  industry, we transferred a significant portion of the damages
        long in advance. Our industry has the strength and coverage  we  faced  to  the  reinsurance  companies  that  insured  us.
        structure to handle not only this earthquake but also future  Those reinsurers, in turn, passed on this risk to institutions
        disasters that may occur. As long as we gain societal risk  that protect themselves. It is of great importance that we
        awareness, we will be able to overcome them.''       act considering the possibility of major disasters. We must
                                                             ensure  that  our  homes  are  built  on  solid  foundations.  We
        Uğur Gülen emphasized that Turkey is a "fault line country"  should construct buildings that will not collapse. We should
        and regarding the expected Istanbul earthquake, he stated the  leave  our  risks  to  the  insurance  industry  so  that  we  can
                                                             overcome such disasters with the least possible damage''.